Why The Project
The Jukebox Memories Project was founded by Dale Lazar in Pittsburgh, PA. In 1996, Dale's parents, Bernie and Ethel Lazar, relocated to a nursing home. During Dale's frequent visits, he saw an uninspired and somewhat passive activities program  which led him to donate a jukebox filled with classic oldies. The response was overwhelmingly positive. The jukebox made a difference to the quality of life of Dale's parents as well as the other residents.
In 2011, Dale participated in a synagogue effort to enhance the programming in a Pittsburgh nursing home, Charles Morris Nursing and Rehabilitation Center. He created a special memory stimulation program, Memories Remembered, and donated a CD jukebox filled with classic oldies. The response from residents, staff and administration to the jukebox donation was overwhelmingly positive leading Dale to take it nationwide and establish the Jukebox Memories Project.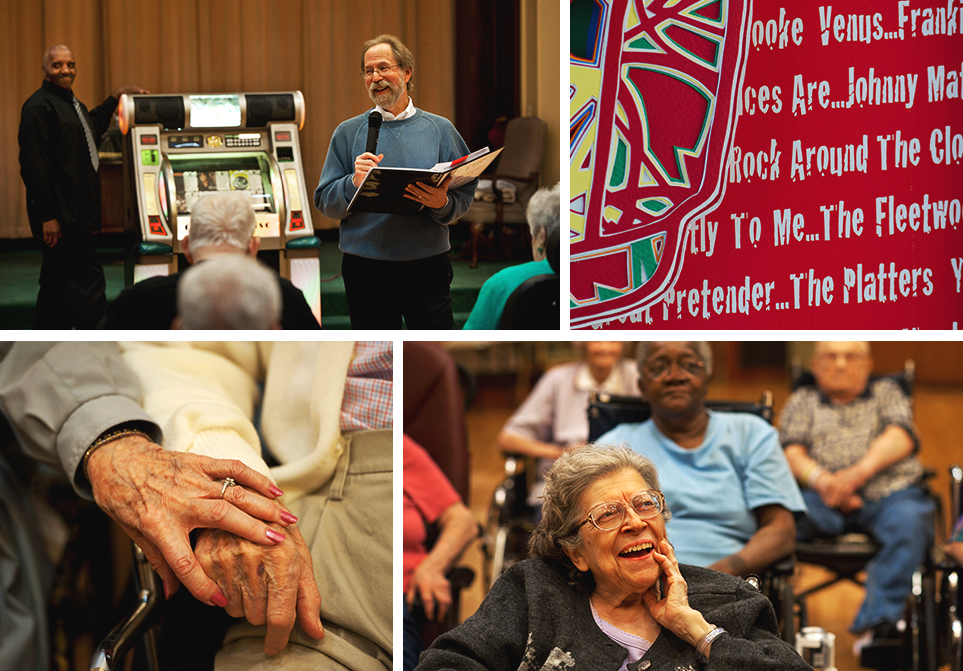 "Music, at its essence, is what gives us memories." - Stevie Wonder

Testimonials
How a Jukebox Transformed a Nursing Home…
"We are the fortunate beneficiaries of several Jukeboxes from a very generous and participatory donor. It's the JUKEBOXES…the music in our building…that makes the difference.
While our seniors are waiting their turn to be served dinner, their heads are bobbing and their toes are tapping to the music of Glenn Miller, Frank Sinatra and Elvis Presley. Today, more residents eat their meals in the dining room than ever before… instead of opting to eat alone in their rooms. Music, the universal language, has opened the door to new friendships and increased sociability.
These Jukeboxes have had a transformational impact on our residents, visitors and staff. They have brought music into our building and into our lives. We cannot thank our donor, Dale Lazar, and his company, H. Lazar & Son, enough. "
– Deborah Winn-Horvitz, President & CEO, Jewish Association on Aging
Our Mission
The mission of the Jukebox Memories Project is to provide CD jukeboxes to nursing homes, and if possible to their dementia units.
The Jukebox Memories Project is an effort to encourage jukebox operators to donate CD jukeboxes filled with hits of the 40s, 50s, 60s and 70s to nursing homes throughout the United States. It is our goal to provide one hundred (100) jukeboxes over a three year period.
By participating in the Jukebox Memories Project, jukebox operators will have a unique opportunity to improve the lives of people living with dementia. Contact Dale Lazar to learn how you can make a difference.
Dale Lazar grew up in the coin-operated amusement business. As a young man, he worked summers and vacations learning all aspects of the business founded by his grandfather in 1932. After a career as a Teacher of the Blind and Visually Impaired, he joined the family business in 1977. Currently, Dale Lazar serves as a board member of the Pennsylvania Amusement and Music Machine Association (PAMMA). He has served three terms on the board of Amusement and Music Operators of America (AMOA). In 2011, Play Meter Magazine honored Dale with the prestigious Operator of the Year award. In 2012 Dale received the Volunteer of the Year award given by the Jewish Agency on Aging.
Gary Brewer
Brewer Amusement Co Inc
412 Sparta Street
McMinnville, TN 37110
931-473-3465

Russell J. Mawdsley
Russell Hall Inc
116 Race Street
Holyoke, MA 01040
413-536-2124

Donors
The Juke Box Memories Project is profoundly grateful to Charles Goldstuck, President and CEO of TouchTunes Interactive Networks.  Mr. Goldstuck's significant donation of oldies CD's helped launch the Project.  Without such a generous and meaningful contribution, the Jukebox Memories Project would not be where it is today.
ALL BRANDS VENDING COMPANY, INC
Philip D. Juckem
1721 W. Cypress Ave.
Tampa, FL 33606
813-259-9495

Diltz & Sons
Doug Diltz
213 N. Main St
Mishawaka, IN 46544
574-259-5229

Frank Guerrini Vending
Del Guerrini
1211 W. 4th St
Lewistown, PA 17044
717-248-9611

IF LaFleur & Son Inc
Rick LaFleur
1219 College Dr
Devils Lake, ND 58301
701-662-8631
www.iflafleur.com
Jim Kelly
(Personal Donation)

Midwest Coin Concepts
Chip O'Hare
224 33rd Ave S.
Waite Park, MN 56387
320-251-2627
www.mwcoin.com
T & G MUSIC, INC
Phil McBride
491 Garden St.
Titusville, FL 32794
321-267-3951

Founding Jukebox Site
Jewish Association on Aging
200 JHF Drive
Pittsburgh, PA 15217